on Tuesday, February 19, 2019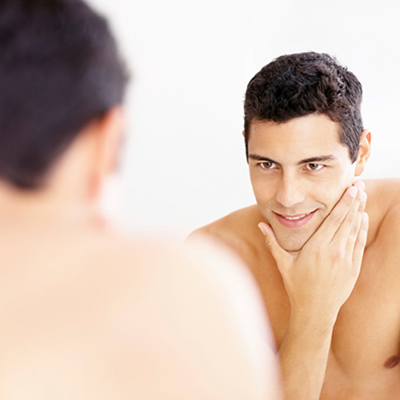 Laser hair removal isn't just for ladies – plenty of men opt for the more permanent results that laser hair removal offers over other methods of removing body hair. It saves time, saves pain, and ultimately saves money that would otherwise be spent on repeatedly shaving or waxing.
What are the most common reasons men get laser hair removal?
Excessive body hair and aesthetics
It's common for men who have excessive body hair to feel uncomfortable with it and want to thin it out a little. Laser hair removal doesn't have to remove all of the hair in the treated area – it can easily be used to make it thinner and sparser. Thinning hair on the back and chest area helps a lot of men gain more confidence.
Hygiene and keeping cool

While having body hair doesn't actually mean you're less hygienic, reducing body hair can relieve bushiness and itchiness that comes with warmer weather.
Hard-to-reach body hair
Plenty of men have hair on their backs and buttocks, which is incredibly hard to manage on your own. Laser hair removal can permanently reduce body hair in those hard-to-reach places, meaning you don't have to try to get back there with a razor or hot wax.
Facial grooming and ingrown hairs

Laser is the only way to effectively treat a condition called PFD, or pseudofolliculitis barbae. It's common for men who shave to experience clusters of inflamed, red or dark bumps on their face and neck. Essentially, these are ingrown hairs that grow in all sorts of directions, which can leave scars. Removing these painful ingrown hairs makes shaving easier.
Balding
Plenty of men would rather go completely bald than have patchy hair. Laser hair removal can also help remove hair plugs that didn't work or are irritating.
Sports performance and presentation
Getting rid of body hair helps a lot of men in different spots. Body builders like to thin down their hair for appearance. Cyclists experience less chafing and irritation from their gear with less hair. Swimmers can even cut time off their swimming speed by reducing body hair.
Get quality laser hair removal at Laser Smooth Company
Whatever your reason, men can find the highest quality laser hair removal service in Gresham with Laser Smooth Company. We are always open for free consultations, and we'd love to help you take the first steps towards permanent hair removal. We are conveniently located at 2850 SE Powell Valley Rd in Gresham, Oregon. We are waiting for your visit!